VMware Workstation 15 can't see any USB flash drive
常规的解决方法是以管理员权限启动:
VMware Workstation does not recognize your USB drive? If you've used VMware Workstation for some time, you might ever face the situation where you can use the USB drive well on the host PC (physical machine), but no USB drive is shown up under the VM -> Removable Devices menu within VMware Workstation. Here is how to fix it.
First of all, shutdown the virtual machine if it's running, and then exit the VMware Workstation program. Right-click on the VMware Workstation shortcut from your desktop and then select "Run as administrator" to run it with admin privilege. This has fixed the problem that I experienced just a few days ago and eventually found out that VMware Workstation have insufficient privileges to capture the USB device.
还不行的话,检查VMware USB 服务有没有启动
If you still don't see the USB drive in the VM menu, follow the below steps to check if the VMware USB Arbitration service is not running:
Press the Windows key + R to bring up the Run box.
Type services.msc and press Enter.
Search for a service named VMware USB Arbitrator Service. If this service is not running, right-click on it and select Properties, set Startup Type to Automatic and also click Start button to run it.
Note: After starting the VMware USB Arbitrator Service manually, you need to re-launch the VMware Workstation to make the changes to take effect.
Additionally, VMware Workstation does not support USB3.0 natively and you need extra drivers in the guest for the USB device. I highly recommend to use USB 2.0 for your virtual machine. Go to the Virtual Machine Settings and Make sure the USB Controller is present in the device list and USB compatibility is set to USB2.0.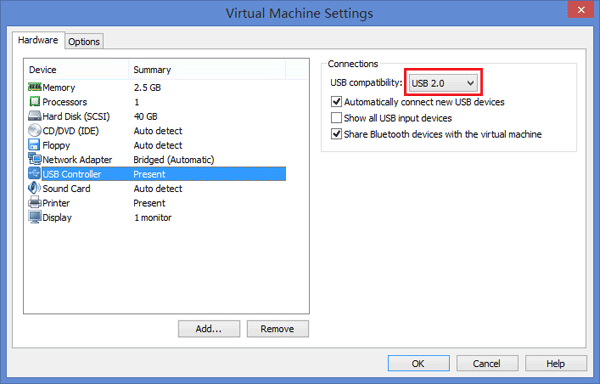 I hope this article helps someone out there that has encountered this issue.
Can't see any USB flash drive: in menu VM > Removable devices it never appears. VM is local. USB controller is enabled in VM's settings (I tried all cases of USB version). VMware tools is successfully installed on guest OS.
My host system works fine with USB. All VMware services are enabled and working (Workstation server, USB arbitrator and others). I tried everything...
Host: Ryzen 7 1700, AMD B450 chipset, 16 GB RAM. Windows 7 Pro 64-bit.
Guest OS: also Windows 7 Pro 64-bit.
Workstation 15.1.0.
May VMware not support USB controller of my motherboard (Prime B450-Plus)? Is there reason to try install third party PCIe USB controller?
I installed third-party USB 3.0 controller (based on NEC µPD720201 chip) in PCIe slot, and VMware successfully works with it's ports! But still can't see PC's native ports. So, obviuosly, reason is in VMware's support of specific controllers...
Asus Prime B450-Plus, BIOS was updated in december 2019. Uses AMD USB 3.1 eXtensible host controller.